Officially opened the 2019 European Golf Championship at the Antequera's Townhall meeting.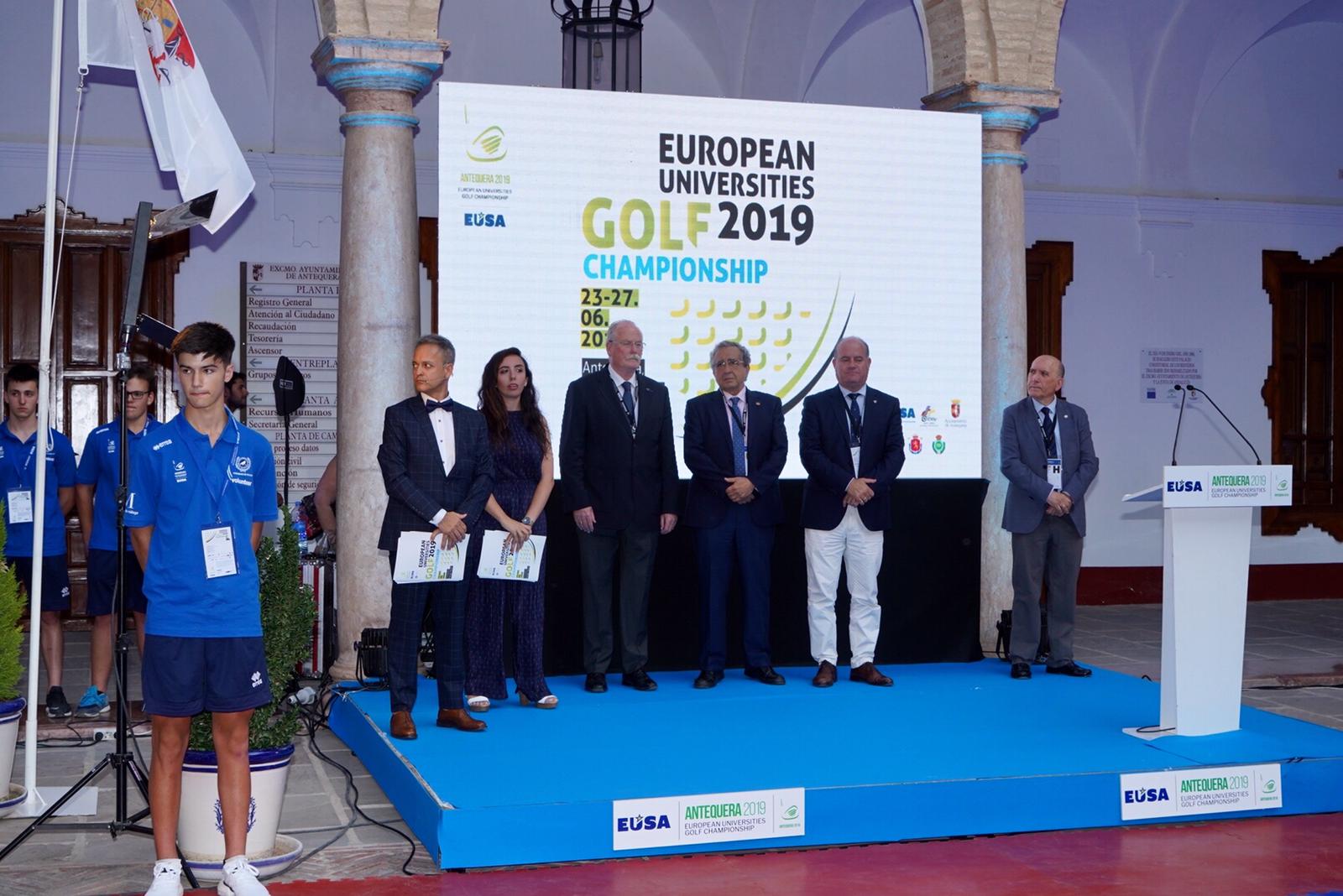 Authorities, organisers, and participants have met in the centre of the city to open the next emotional days of competition at the Antequera Golf course.
The Antequera Townhall staff embraced the opening ceremonyof the 2019 European Universities Golf Championship. The event was lead by Jean-François Sautereau, from EUSA, and by Malaga University rector, José Ángel Narváez. Also some politicians' representatives from Andalusia and nears came, like Mercedes García, delegate in Malaga in Education and Sports from the Andalucía council, and Manuel Barón, mayor of the city where the tournaments takes place.
The participants filed with the flags of their countries and with the name from their universities at the beginning. After it the Spanish national hymn sounded with a sound of celebration. The first who started was the mayor of Dolmens' city, Manuel Barón, who gave the welcome to the participants, expressed his gratitude about being the chosen city to be the championship's headquarters and pointed out "Antequera is a town related with the sport, with teams at the mains Spanish leagues like handball or futsal and the vinculation with the university sport let us to organise European and global".
Malaga's University rector, José Ángel Narváez, appeared at the second place to emphasize the importance of the sport at the superior education. Narváez pointed out "sport is a value added in the university and we encouraged that it is always present in our students". Moreover he highlighted the value of the organisation of this type of events from a public university, being this the headquarters of the knowledge. Finally, Sautereau expressed his gratitude on behalf EUSA's name all of the work realized and he officially inaugurated this year edition.
After authorities' intervention, Esperanza Serrano (University of Malaga) was the responsible of representing every player in the oath of respect for the rules and the sport spirit. The ceremony ended with the arrival of EUSA's flag carried by four volunteers and the university hymn started again along with the Spanish in order to open the way for the group "Baruca Acrobática".